Wind Energy and Hydroelectricity
Québec, which holds some of the world's most extensive freshwater reserves, has tremendous hydroelectric power generation potential.  As the demand for energy increases, electricity generation sources must be diversified by adding power generated from renewable resources.  Wind energy is a natural complement to hydroelectricity because hydroelectric plants make up for wind's variability and unpredictability, while wind turbines lessen the use of dams and hydropower reservoirs.  Wind energy and hydropower are a great match.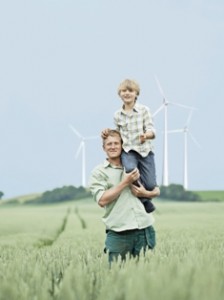 A Clean Resource
The green energy generated annually by the Montérégie Wind Farm Project will cut CO2 emissions by 120,000 tonnes/year, or the equivalent of the annual emissions of 30,000 automobiles.
A Source of Wealth
Wind-generated electricity is more than a source of energy, it's also a source of wealth for Québec and its future generations.  By carrying out the Montérégie Wind Farm Project, Kruger Energy is contributing to Québec's economic development as well as to local development.  The wind farm will be constructed in complementarity with agricultural activity, which is the region's predominant activity.  Thus, the project will contribute to the economic empowerment of the local agricultural sector by providing the stakeholders involved with a new source of stable, long-term income.